Lessons
First String Music provides instrument and voice instruction for the beginner to advanced musician. Below is a list of our current in house instructors. Please contact us for further information or to reserve your lesson! 1-970-871-4661
---
Music Instructors
---
Stephanie Blake




Stephanie loves music and has been teaching voice and piano since 2006. She has studied music her whole life and continues her study regularly. She was a music major at the College of Eastern Utah and Weber State University. Her private teachers have included Jay Andrus (voice), Russell Wilson (voice - not the quarterback), Janice Siggard (piano), and Ken Plain (Voice). Stephanie has performance experience in many styles: Choral, Oratorio, Classical, Jazz, Musical Theater, Rock, Country, Blues and Sacred.

Stephanie tailors her lessons are for each individual student. She has a positive, upbeat, and honest teaching style.. She works with students of all ages and ability levels, both amateur and professional. Stephanie's students have gone on to college scholarships and perform professionally.

In addition to voice lessons and piano lessons, Stephanie offers voice coaching and vocal rehabilitation services.

www.stephanieblakemusic.com


---







Kevin Callahan
Kevin Callahan has a long and winding history with music and teaching guitar that led him through genres from Jazz to Punk, and as a result Kevin acquired an eclectic taste in music. With a background in stage performance, improvisation, song-writing, and teaching, Kevin employs a student-lead approach to music that guides his students into the path they want to be on. He works with students at a range of ages and skill levels from kids to adults, beginners to experienced players, and Jazz players to Country pickers. Kevin has been teaching and performing guitar/bass/uke for nearly 20 years, and will bring his real-world skills as a musician to help guide you to new places in your musical journey.
---
Neil Marchman
Neil is currently the on-staff guitarist for the Steamboat Christian Worship group. He also plays locally for Herding Cats and the Brian Smith Project. He has four semesters under his belt as the jazz ensemble director at Colorado Mountain College and four years as the the music teacher at Strawberry Park Elementary School.

Neil began playing professionally in Colorado Springs in the early 1970's with various rhythm and blues groups, top-40 bands and rock ensembles. He studied music theory at Olive-Harvey City College in Chicago, where he toured with the the school's gospel choir as their guitarist. He eventually earned a bachelor of arts degree from Colorado State University in Fort Collins. He moved to Steamboat Springs in 1996.

Neil has played in numerous bands, written and recorded several original songs in the past thirty-five years. He has taught guitar just as long. He currently teaches guitar, bass and keyboard at First String Music.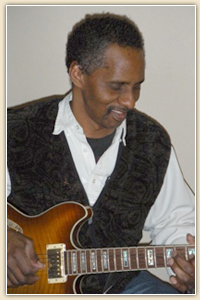 ---
Amy Robinson
Amy Robinson has been playing piano since the age of eight, but found even more love for music in teaching, and has taught private piano lessons since 2006. She graduated from Weber State University with a Bachelor of Music in Piano Pedagogy. During her time at WSU she served as the president of the piano department and president of her collegiate chapter of Music Teachers National Association. She also completed three years of internships at WSU teaching in both their piano preparatory program and adult piano classes. Despite her training in group piano lessons Amy prefers teaching at a private level so she can focus on each individual students' needs.
Amy also loves accompanying and performing. She had the opportunity to perform eleven concerts throughout Sweden, and currently serves as a pianist at her Church. She has furthered her education by attending multiple state and national music teacher conferences.
---
Jessica Berg
Jessica Berg is a Suzuki violin and viola teacher in Steamboat Springs, Colorado. She also continues to teach with Boulder Suzuki Strings, where she has been a member of the faculty since 2002. Since moving from Denver to Steamboat in 2016, Jessica joined the Steamboat Symphony Orchestra and is delighted to play with such an inspirational group.In addition to teaching violin and viola, Jessica is a certified Suzuki Early Childhood Education teacher, and began teaching some of the first SECE classes in Colorado in 2015 as part of Prelude Music, LLC. Shelooks forward to opening SECE classes in the Steamboat Springs area in the near future. In addition, Jessica is an Iyengar Yoga instructor and believes in fusing the worlds of music and yoga. She has taught yoga for musicians at numerous workshops, including Peaks to Plains Suzuki Institute in Lafayette, Colorado, Intermezzo Chamber Music Sessions in Denver, Colorado, and the Suzuki Winter Workshop in Denver. She enjoyed teaching music and yoga to young children in 2018 through Young at Art at the Steamboat Art Depot. Jessica is happy to make her home in Steamboat, and enjoys the amenities of the mountain lifestyle – hiking, skiing, tennis and living in a small community that's rich in its love for the arts.
---